Synthesis of a Biocide
The project synthesis of a biocide from the waste product of soybean oil, soybean lecithin has been targeted marine biofouling. Natural process of colonization and development of marine micro and macro-organisms on surfaces kept submerged.
The submerged etched surface provides a secondary colonization derived from spores and larvae, causing growth of macro-organisms and consolidating biofouling. In general, vessel hulls are areas with conditions favorable characteristics to the process. Over time, this fouling growth layer generates large financial losses as:
The increasing drag that overload the motor of vessel / installation, reducing the travel speed and consequently increasing spending on fuel.
The increasing deterioration on surface where's the crust.
Plugging leaks and parts.
Environmental risk of transferring invasive species that is associated with crust.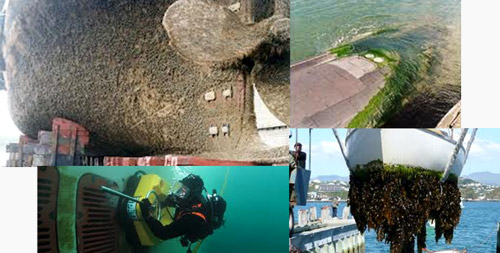 Consolidated biofouling
Sources: International Paint, Akzo Nobel; Callow, JA and Callow, ME Nature communications. n.244. (2011); www.nrc.govt.nz and www.hydrex.br
Performance and Evaluation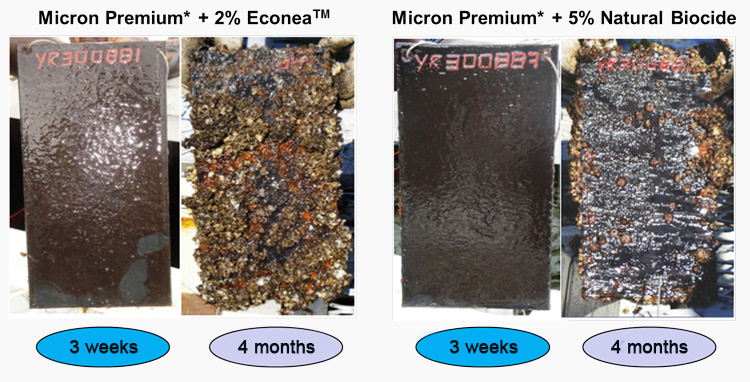 Field tests conducted in the Guanabara bay with the support of International Paints SA (Group Akzo Nobel).
* Antifouling ink-free copper. International Paints S.A. (Group Akzo Nobel).
TM - organochlorine commercial biocide (Jansen PMP Company)

The Lasape in partnership with the Navy of Brazil IEAPM-synthesized a biocide antifouling with a similar structure to glycerophospholipids PAF - analogs synthesized from a natural raw material, national, abundant and low cost, the Leticinas Soy.
In assessing the antifouling performance, glycerophospholipids synthesized were tested against the settlement of marine micro-and macro-organisms through laboratory tests and field tests in Guanabara Bay. In laboratory tests carried out in comparison by the action achieved of copper sulfate (CuSO4) (control), products of the synthesis showed a result significant reduction in bacterial growth processes (80% inhibition relative to that achieved by CuSO4 by using concentrations of 100 microg / L), and marine microalgae (up to 63% over that achieved by inhibition CuSO4 using concentrations of 300 microg / L).
Field tests performed in comparison to different anti fouling inks, already marketed and under study, demonstrated that synthetic products, replacing the organo-metallic biocides (booster), showed better efficiency in reducing fouling organisms and promising activity with significant reduction in coverage of fouling macro-organisms when compared with the negative control (no biocide).
Results achieved show that the use of O-hexadecyl-glycerophospholipids can become a great option for use as a biocide, with call usage as raw material a natural substance, soy lecithin, a residue from the production of soybean oil thus not competing with the production of an important food in the diet of the population.
The O-hexadecyl-glycerophospholipids are substances with promising biocidal activity capable of being introduced into commercial formulations inks used in antifouling coating of ships and offshore platforms.
See Technological Consultancy for more information.